Russia, Japan, or Dominican?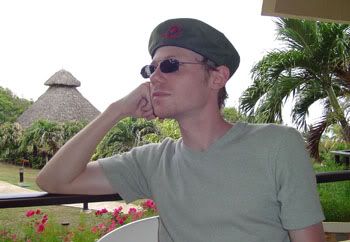 Suz and I
are leaving for the Dominican Republic tomorrow. In light of that, here I am in Cuba last year.
Cuba was
Suzy's choice. And I thought it was an excellent one. It was exciting to visit a communist country, and to do so while Fidel Castro was still in power made it even more so. He won't be around forever, and with his "departure", Cuba will likely undergo some changes.
This year
, as usual, Suz got her choice of vacation spots.
The two places
I want to visit the most are Russia and Japan. Beaches are nice, but I want to do something different. I've always been
different
.
However
, Suz, being normal, wants heat and relaxation, not architecture and excitement. To me, that's a little sad, but I'm not about to argue with her. In all honesty, we don't have the money to travel to Russia for a week.
As for Japan
, we could make it there alright, but once we got hungry, we wouldn't be able to afford to eat. Japan is probably the only place in the world where a 16:9 plasma TV costs less than a ceasar salad.
And what
will $100 U.S. buy me? An apple.
YES
, that's right, one single solitary "designer" apple. Or a square watermelon. It's my choice, really.
But my dreams
of going broke in Japan will have to wait a few more years. By tomorrow, I'll be lounging in the winding pool of the Ocean Blue resort in Punta Cana, where everybody takes rum showers, because it's cheaper than water.