Dinner With Dave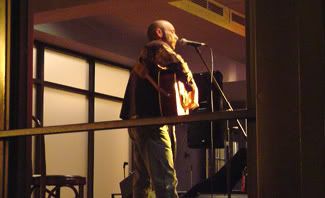 Last night
Suz and I had dinner with an old friend of hers. His name is Dave Gould, and he is a musician with a unique Canadian sound.
He spent a number of years in Prince Edward Island, living the East Coast life, and putting together a PEI-inspired album, The Passion of Bobby Bedeque (his alter-ego). You don't have to be from PEI to enjoy his folk music. Even CFA's will click with the sound. Not familiar with PEI term, CFA? Spend some time with Bobby Bedeque. He will open your eyes.
Since he has returned
to Ontario, he has been trying to sell his 7-litre Bluebird bus. "That bus has been worth a few songs" he said after he performed last night. I really enjoy his bus songs. Maybe because I'm a car-guy. Maybe because they're really good. Ah, buses. And a seven litre diesel no less! Since the winter I've watched him perform at such places as The Staircase Theatre, which has unfortunately closed its doors, and The Pepper Jack Cafe.
Last night
, at Pepper Jack's, we sat outside on the stone patio, with century-old buildings towering over us. As dusk settled, we finished our meals and waited for Dave's scheduled time on stage. The stage was inside, but giant-sized windows were swung open to allow the breeze, and the music, to flow unobstructed. Dave perfomed a trio of new songs: Tea Dance, Smoke Blows Down, and an untitled song about his bus.
Dave is also quite adept at holding children's attention as well as adults: not an easy feat! He told us about his recent Yacht trip, performing a children's show for the kids aboard:
The Cranberries
' kids. It's great to see musicians supporting musicians. While Triumph partied with The Cranberries elsewhere on the yacht, Dave spent 4 hours playing songs and games with their offspring.
If Dave Gould
can entertain The Cranberries' kids for four hours, there's no denying his talent. His latest CD is available on
cdbaby
.