Thank God For Meat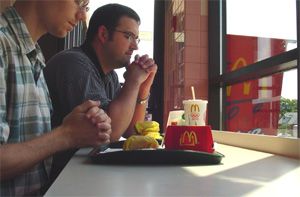 I do not
come from a very religious family. Although my mom's parents were very Christian, my mom didn't pass it down to me, or my sister.
Suz
, on the other hand, comes from a very religious family. What is very religious? Missionary work in 3rd world countries? Converting heathens
Bible Blaster
-style? (Simpsons Season 11, Episode BABF10) Not exactly. They pray. A LOT. No, you don't understand. I don't mean they pray before every meal and read from the Bible after dinner, because those things are completely normal. What I mean is: a prayer before a birthday dinner at, say, a crowded East Side Mario's, or just lunch at McDonalds. Yes, before every greasy Big Mac we bow our heads and say thanks for the... uh... meat.
This was hard to get used to even though Suz warned me that, because of my background, I might find these things kind of odd. I believe she said something like, "now, don't be scared." But why does it seem odd to pray in a fast-food restaurant? If you give thanks before every home-cooked meal, why wouldn't you do it in a restaurant? Embarrassment? Not 100% devoted to God? I don't know the answer, but the more I think about it, the more odd it seems that I
don't
see families praying in Taco Bell.
I am open-minded
and I've accepted this change in my life. Yet, every time I hear God's name, I can't help but think of Bart Simpson's immortal words, "
God Shmod. I want my monkey-man!
" and wonder how the McCorporation could best put this new meat to use.