The Government is Listening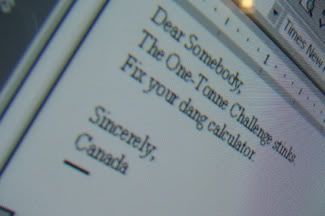 Remember my
One-Tonne Challenge rant
from last week? I revealed to the government my displeasure about their vague and incorrect Greenhouse Gas Calculator. They asked for comments and suggestions, and I certainly gave them a few, much along the same lines as my blog.
At the very end
of my fairly long email, I mentioned to them that if they wanted Canadians to take the Challenge seriously, then
they themselves
should be serious about it too, by creating an accurate GHG calculator.
Yesterday
they replied.
The email
contained such sentences as, "Thank you for your message" and words like "Indeed". The email stated, "...the first version of the calculator was meant to give a rough estimate of the GHG emissions produced by individuals at home and on the road and does not enable users to insert more detailed information as the one described in your message."
It continued, "... we found through thorough research that Canadians would like to see a more complex calculator that will take into consideration most of the activities related to GHG emissions." They even go on to say "We acknowledge that and are presently working on a second version trying to implement as many of the comments and suggestions received as possible..."
Research?
They didn't do any research. All they did was allow an email option, where people like me bitched about the calculator. Research Schmesearch.
Thanks for the Lip Service!