Auchentoshan Three Wood Single Malt Scotch
Whisky is expensive. And the longer it sits in barrels or casks, the more expensive it gets. You're not really paying for the sweet liquid inside, but rather time. As they say, time is money. Think of it as renting space to store something until you're ready to get it. You're also paying for the expertise of the Master Distiller as he nurtures it over those years.
In Canada whiskies get even MORE expensive when the "free healthcare" taxes are included. So, when one has fallen in love with it like I have, one has to make very wise purchasing decisions. No one wants to get stuck with a $100 bottle they don't like. Thankfully there are people like Ryan at
Value Whisky Reviews
to help. And there's more help at the LCBO. Every 30 days they put their juice on sale, but the savings are typically not much more than $1.50 a bottle. If you're lucky, you'll save $5, and if you've got horseshoes up your ass, it might be $10.
I loved my Auchentoshan 12 y.o. so much that I was willing to take a chance and buy the Auchentoshan Three Wood at full price. It is the only other Auchentoshan available in Ontario and I was dying to try another triple distilled scotch. Did the LCBO's devious little plan work? You bet. Full price: $77.
Three Wood is special in that it has been matured in three different casks. First it spends an entire decade in ex-bourbon casks, then a year in ex-Oloroso sherry casks and finally, finished for 1 year in ex-Pedro Ximenez sherry casks.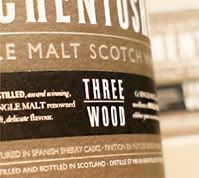 The sherry gives the Three Wood a deep bronze colour, and more. The nose made my mind race, searching through file after file of scent memories, trying to find a match. Wood, butterscotch and grapes, and maybe more. It seems similar to the 12 year old only amped up and fruitier.
The taste is very much influenced by the sherry casks. It's an amazingly rich mix of dark fruit and sweetness. Mulberries, grapes, maybe a hint of tobacco and toffee, followed by the same tiny punch of smoke as the 12 year. No, a bit more smoke. Just perfect.
The finish is dry thanks to the sherry casks, a bit grassy, fruity and long. It's not very strong, just perfect. Again, it's similar to the 12 year, only drier and smokier. Even after brushing my teeth I was able to taste it! The finish really is fantastic.
After my first drink I was in love. To me, this is worth a bit of a premium over the regular 12 year. It's like paying extra for a DeLorean... because it has the gas flap hood! Huzzah!
LCBO: $77
750ml
43% (86 proof)
www.auchentoshan.com
Labels: auchentoshan, review, scotch, sherry finish, Three Wood, whisky