Wild Turkey American Honey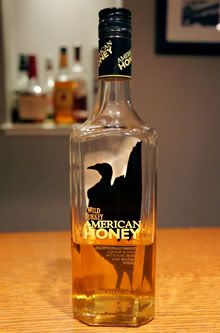 I've been drinking Southern Comfort since I was a wee child. It is still one of the staples in my house, but in recent years I had become bored with it. About the only thing I hadn't mixed it with, was milk. Scratch that. Just tried it. Don't do it.
And so, on a Vegas vacation a few years back, I found myself shopping at a grocery store in Henderson with my friends. While they shopped for nutritious things to sustain us, I took a detour into alcohol alley. I asked one of the employees if there was a bourbon-style drink that was sweet like Southern Comfort yet not quite as sweet. I wanted something more bourbony. One of the suggestions he made was Wild Turkey American Honey.
That sounded great to me, and I admit since it was not available in Canada, the cool factor (read: "I have something you don't, nya nya!") played into it a little too. I bought a 750ml bottle for the equivalent of $26 Cdn.
American Honey is Wild Turkey bourbon mixed with real honey. And the nose doesn't lie. I smell bee barf, nectar, a strong sweet citrus, and something bitter like orange peel.
The taste is
just
a tad different. The light golden sunshine liqueur is hugely sweet, but not like Southern Comfort. It almost has a candy-like sweetness to it, honey, a faint bourbon quality and fleeting citrus.
The finish is sweet and dry, I still taste honey and something else. Something weird. Kiwi?
The honey overpowers the bourbon, but not entirely. And because of its versatility, it's pretty great. Bourbon and Scotch drinkers won't want to drink this neat, but if you're new to this it is a very good place to ease into your whisky sipping journey. And it's even perfect for mixing, adding a sweet corny honey taste to cola or root beer, and probably ginger ale and milk too. Yes, super sweet American Honey is perfect for the bourbon wuss.
NV grocery store: $26
750ml
35.5% (71 proof)
www.wildturkey.com
www.americanhoney.com
Labels: American Honey, bourbon, review, whisky, Wild Turkey