Maker's Mark Kentucky Straight Bourbon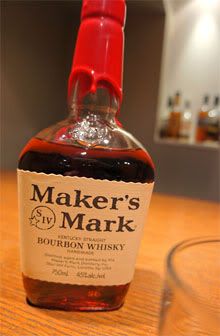 I'm back again, polluting the internet with my amateur whisky reviews. While my posts aren't ill-conceived, the notion that I know whisky probably is. However, whisky is a very personal thing.
Reading reviews I find I'm sometimes baffled by the elaborate or curious descriptions given. Chocolate? Creme brulee? Baked goods? In whisky? Well, sure. And I probably smell things that other people don't too. It's just how your brain interprets the scent.
On my way home from Costa Rica, which smells like bananas and Mr. Clean Magic Erasers, I made a pit stop at the airport's mega-tiny Duty Free. When I say small, I mean it. I've been in bathroom stalls bigger than this place.
The store was so small, I was not able to shop. I had to get in line and shuffle along as the line moved forward, viewing what was on the shelves as I passed them. After about 10 minutes, I saw the very last 750ml bottle of Maker's Mark and grabbed it. Duty Free price: $26.
By most accounts Maker's Mark Straight Kentucky Bourbon is aged between 6 and 7 years. The rich orangey amber bourbon is a "small batch" whisky which means each batch is made from 20 or less barrels.
When I peeled the trademark red wax off the top and poured it, the nose wasn't what I expected: Thick wood, almonds, a hint of spice, and alcohol. But it was all fairly muted. I tried many times, but found it difficult to get a smell of something good and solid.
The taste was much better yet still simple. Caramel, vanilla, pepper and Portuguese cork notepad. Wha??? Yeah, I also noted a very odd flavour - it tastes the way my Portuguese cork notepad smells; kind of musty, but not in a bad way.
The finish was spicy and peppery, which is strange because there's no rye in this bourbon. I'm not sure where the taste comes from, but it's very distinct and strong.
Overall, I didn't like this one as much as I thought I would. I guess the hype this brand has built up around itself backfired. I discussed this with a coworker and he convinced me to give it another chance. But over and over again, there was something about it I didn't love. It really threw me. So I decided to *gasp* try mixing it.
I made two of my favourite drinks, the first using Retro Pepsi, the second using Rootbeer. The Maker's Mark added a creamy vanilla flavour to each one, making them THE best Pepsi & bourbon and Rootbeer & bourbon I've ever had. They were so fantastic in fact, that I will happily sin again. If you think I'm a monster, leave me a comment and let me know!
Duty Free: $26
750ml
45% (90 proof)
www.makersmark.com
Labels: bourbon, Maker's Mark, review, whisky