Boxspring Update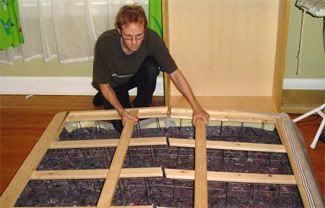 One week
has gone by with our Boxspring leaning against our dining room wall - precariously I might add.
You may remember that we were unable to coax our Queen-size mattress support up our stairs to the second floor, which created our annoying
Boxspring dilemma
. Suzanne completed the preliminary task of taking the fabric off the frame, and my dad came over with his
DeWalt Reciprocating Saw
to finish the job. We decided if we couldn't have this boxspring, nobody would.
Then something strange happened. My heart grew three sizes that day, and I felt goodwill towards all boxsprings.
We cut
the wooden part of the frame up the middle and bent the metal part of the frame backwards, creating a sort of hot dog bun out of the boxspring. Because of this ingenious folding, it was narrow enough to get upstairs. Huzzah!
We placed it on the floor of the bedroom upside down. We cut 7 super-lucky lengths of wood, and I began screwing the broken frame together again. Once Suzanne reattaches the fabric, all I need is a powerful jolt of electricity, and our Frankenbed will COME ALIVE! Muhuhahahaaa!