Stupid Canadian Roads
On the weekend
Suz and I went up to the Ottawa area to visit her family. The 5-hour drive up was slightly more exciting than normal this time, which made the whole weekend more fun.
Every time we go up, we come across this section of the 401. If you've driven up to Ottawa, you may be familiar with this section of highway. A sign warns about the test-road-paint lines, but even still, the first time I encountered them I panicked.
The painted lines vary greatly
, yet remain consistently useless, other than their distraction factor. Some are yellow, and some are white. Some are solid, and some are dashed. Some are horizontal, and some are vertical.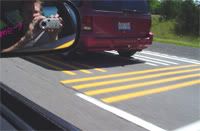 Here is another picture of the lines and the van driving over them. That's me in the mirror. The driver of this van didn't seem to get distracted. I even tried getting his attention by pointing down at the road furiously, while screaming "look out! You're going off the road!" but he didn't seem to notice. I guess he has seen the lines before.