Only 89 Days Till Halloween!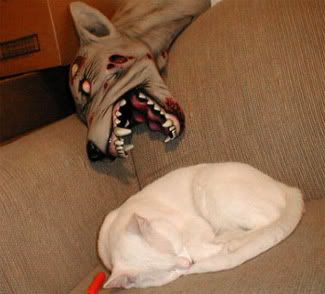 Every year
I host a big Halloween party, and this year will mark the 14th anniversary.
I am an absolute Halloween fanatic, and for the past 4 or 5 years I've been trying to come up with something grand to make the party different and more exciting. I think this is it!
Thanks to Kev
over at
The Archies
, I am planning my own Self-Perpetuating Zombie Party.
I am not entirely sure how the San Fran party was pulled off, but I don't want to be play-fighting with strangers, or potential
law-breaking University students
. Therefore, I am planning this Zombie walk straight down King Street - with friends. It will be completely staged, and our destination, much like the event in S.F., will be The Snooty Fox, a local pub.
After a few drinks
and a few laughs, we will head back to my place to continue the party until the wee hours of the morning.
I know
there are a few of my friends who will feel uncomfortable with this, so to those scaredy-cats I propose this: Please be the camera-men and camera-women. We need to preserve this moment with excellent photographs and filming.
Who is up for it?
Leave a comment!