In Appreciation of Packaging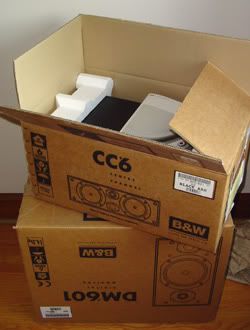 Moving Day
is over.
Although there were a number of unfortunate incidents, nobody was taken to the hospital (Krevin), so I would have to say Moving Day was a moderate success.
Friday morning
we emptied the remaining house contents onto our awesome neighbour's front lawn. I guess we don't own very nice things, because passersby started helping themselves, assuming we were just tossing it all. Toni had to knock a few heads to protect my old Jeep grille. It's a chrome grille, so the blood and teeth wiped off easily.
We got the key
just after lunch, and had the 1st U-Haul load in the house by 2:00. The truck was loaded up for a second time, then unloaded, then loaded a third time, and unloaded again. Like a demon-possessed, the U-Haul veered left and right despite any corrective steering action.
Anything that didn't fit in the truck went into six cars and an SUV which deserve an applause;
Thank you Mazda 323. Thank you Eagle Talon. Thank you Acura Integra. Thanks very much Chevy Cavalier. Thank you Honda Civic. Thanks a bunch Mazda Protege. Thanks for your help Ford Explorer.
Total length of 3 trips: 5 kms.
As darkness settled and our friends said "adios suckers", Suz and I started unpacking boxes. I love boxes. Boxes protect. Boxes look good. Unpacking things from their original boxes feels like Christmas. I love sliding my speakers out of their thick corrugated tuxedos, encased in styrofoam shells, molded perfectly to their design. Once you've experienced the quality and beauty of a perfect box design that protects its contents without compromise, you'll see what I'm talking about.
Appreciate
boxes and packaging. Go home and hug a box today.