R.I.P.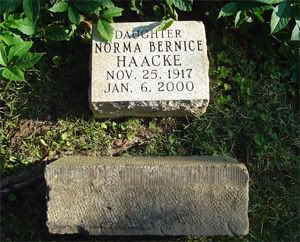 To a guy
who loves Hallowe'en as much as I do, it was a fantasy come true. Not so much for the Haacke family.
Shortly after we moved into our first house, we began cleaning up the mess left behind by the students. Because of the enormous trees in the backyard, it received no sunlight, and therefore no grass would grow. It was a giant mudhole. My uncle J came over and cut down 4 of the "weed trees" with his chainsaw, and I trimmed the 100+ ft. Maple trees which towered over our roof.
The back corner was overgrown with saplings, small bushes and weeds. Once my dad and I cleared the area, we discovered what can only be described as a residential garbage dump. The contents included:
automobile brake pads

hundreds of plastic grocery bags

chip bags

beer bottles

broken plastic

pieces of poured concrete

copper plumbing

bricks
We disposed of this trash and started turning the soil over to prepare it for sod. To our surprise we discovered even more buried plastic bags and car parts.
We live in the city.
The city has regular scheduled garbage pick-up for things such as plastic bags. And now, plasic bags are even recyclable in our city. So why would students go to the extra trouble of burying them in the yard? They sure didn't go to that much trouble to bury what we found next.... gravestones.
My dad and I were both shocked when we flipped over the first block of granite and discovered the inscription. We searched a little more, and uncovered another - part of the base of a very large, old gravestone. When my friends found out, the jokes started rolling in. The most commonly asked question was: are you going to display them at Halloween? Those who knew me REALLY well asked:
where
are you going to display them on Halloween?
It was exciting
to think of the possibilities. Imagine displaying real gravestones at Halloween! No cheap plastic ones, no home made styrofoam ones, real ones! But I had more respect than that. Suz contacted the local paper, which loved the story, and chronicled the events and our theories as to how the stones arrived in our backyard, hundreds of miles away from the cemetery where Mrs. Haacke rested.
The writer tracked down the family, and we learned that after this first stone was stolen from a local blasting compound, a second identical stone was made for Norma. The stone we have was therefore not needed by the family, and they have never contacted me to pick it up.
And so
it will come with us to our new home. That way I, as well as the Haacke family, can be sure it will be safe from the hands of university students on the prowl for something to do.