Here's To Sixty More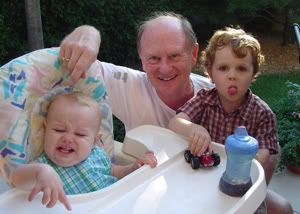 Yesterday my dad turned 60
. SIXTY. Only one day earlier he was in his 50s, but now he is officially retirement age. It's amazing the difference one day can make. I spent the evening running around taking pictures of him with his grandchildren, and I wish I had spent more time talking with him.
My wife, Suz, read yesterday's post and said that I was a giant nerd. I don't deny it. I have nerd qualities. But it's thanks to my dad that I know what I know about cars, and about life.
Thanks dad
, and Happy 60th Birthday!