The Tallest Building in Michigan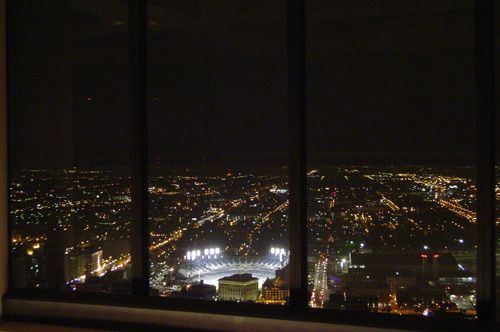 Last weekend
my wife & I went to Windsor to visit her sister, who works at the Windsor CBC. Even if you're Canadian, you are probably not familiar with the Canadian Broadcasting Corporation. Shame on you.
On Saturday night we ventured through the Detroit/Windsor tunnel, awarded Michigan's 3rd Greatest Engineering feat of the 20th century. In less than 5 minutes, we arrived at the GM World Headquarters, located in Detroit's Renaissance Center. At 726 ft. the main building dominates the Detroit skyline, yet is less than
half
the height of the C.N. Tower (1,815 ft, 5 inches).
Floor 72
was our destination, which was easy to get to since the elevator that runs up the outside of the tower only had two buttons: the main floor, and 72. And the price was less than
half
the cost to ride the C.N. Tower elevator - it was free!
At the very top was the Coach Insignia Restaurant, where a group of nine of us went for drinks & dessert. From this vantage point, we could see the entire city of Detroit, including Comerica Park Stadium, which was still preparing for the 76th All-Star game, even at 12:30 a.m.
To give you an idea of just how elegant the Coach Insignia is, I enjoyed a
twelve dollar
gin & tonic. I guess they gotta pay for that elevator ride somehow!