Start Me Up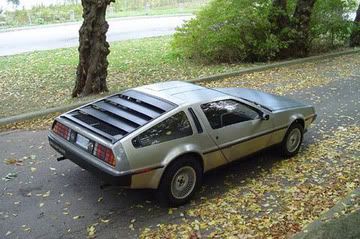 Welcome to DMC & ME.
You're probably reading this because you already know me. You may even know that I grew up in a car-crazy family. There's a small chance you even knew my grandpa was a mechanic, and that my dad drag-raced through the sixties, and that I grew up with fistfuls of Matchbox, Hot Wheels and even those crappy Majorette cars.
But did you know
I friggin' hated those Majorette cars once I was old enough to appreciate my toys? Damn you Majorette! Why does a 1984 Renault have the exact same wheels as a 1975 Corvette?
HUH?
Anyway..... in 1985, just like every other 10-year-old kid, I saw the movie '
Back to the Future
.' At 1:15 a.m. at the Twin Pines Mall, the rear door of Doc Brown's van dropped - and my life changed. My dad, sitting beside me, said "Here it comes! This is the cool car I was telling you about!"
Nineteen years later
, in April 2004, my friends gave me a new nickname. "McFly." Why? My name is Marty, and I own a DeLorean.
Chances are you already knew that, and you already know me, and that is the reason why you're here. Come back often and I'll regale you with DeLorean tales, Ikea fiascos, and anything that I feel like writing about that day. Today I feel like writing about my DMC-12.
1981 DeLorean DMC-12

2.85 litre PRV (Peugeot-Renault-Volvo) V6, 2 overhead cams

130 hp @ 5500 rpm

162 lb-ft. torque @ 2750 rpm

2840 lbs.

Bosch K-Jetronic mechanical fuel injection

5 speed manual

black leather interior

fuel door in the hood

110,000 miles (177,000 kms)