Is SmartCar a Smart Choice?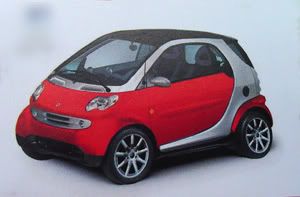 In a word, no
. But it depends. I'll let you be the judge.
Consider the following, before wasting your hard-earned money.
Firstly
, the SmartCar Fortwo is a 2-seater car with almost zero luggage space according to their own website. And there's nothing wrong with that if you intend to treat the car like a motorcycle with a sidecar. But the environmentally conscientious should stop reading now, as this car is more suited towards the poseur environmentalist.
Think it's just for running errands around town, maybe a little grocery shopping? Think again. There's no space for groceries, especially if you have someone in the passenger seat. The trunk only has room for "two small shopping bags" according to the Smart Car
website
, and with no spare tire, a nail or construction debris blowing the tire out could leave you completely stranded.
I hear
what you're saying.... "Waitaminit - There must be
something
special about the car. The engine? The amount of pollution it creates?" Sorry, wrong again. If you thought it was created by an environmentally proactive company with an electric or hybrid engine, the wool has been pulled over your eyes. The engine is nothing more than a 3-cylinder diesel. That's right, a common diesel engine. That point alone should make you sit up and say "Wha?!?" or even "Zha?!?"
Compare:
SmartCar
41 hp / 60 mpg
The 2005 Honda Insight
, a gasoline/electric hybrid, is still the most fuel efficent car in North America, despite what the
SmartCar website
says. For the same price as the 'Passion' SmartCar, you get better mileage, more luggage space, and a better warranty, not to mention 26 more ponies.
In a bare-knuckled match, the Insight reigns supreme.
67 hp / 66 mpg (manual)
What's fun
about the SmartCar is that the plastic body panels can be popped off, and replaced with another colour. It's a very customizable car which totally appeals to me. Mercedes claims that 80% of the Smartcar is made from recyclable materials. This seems like the company's saving grace. But, like all other cars, it is still made from steel, plastic and rubber, which are all recyclable.
I used to think the SmartCar was the most innovative car design in the last 50 years, until I learned the facts. Once my eyes were opened to the truth about this European car, I've done a complete about-face on my opinion of its non-electric self. Hopefully I've opened your eyes too.