Boxspring Blues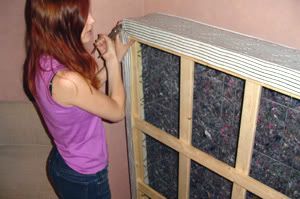 Remember
that old brain-teaser question from grade school about the transport truck that gets wedged under a bridge? All the driver has to do is let some air out of the tires, and he can pull through.
Too bad
I can't let air out of our boxspring.
The gap between our stairs and our ceiling is one inch smaller than the width of our boxspring. After a few futile attempts to "ram it through", we decided on a simpler solution.
We have an Ikea bed
. The great thing about Ikea beds is that they sort of have a boxspring built right in. So our friends built the base inside the frame about 6 inches higher, imitating a boxspring. Problem solved.
But we have a spare bed for when ours is in the shop. It's also good for when the in-laws come to stay. We only charge half the price of the nearest hotel, so it's a good deal. Although the price is low, we still try to offer them a decent bed to sleep on, and unfortunately, the other bed frame we have is the old-fashioned kind where only a queen sized boxspring will fit.
So begins
Suz's quest to dismantle, then reassemble the boxspring once it is upstairs.