Serious Student is Driven to Succeed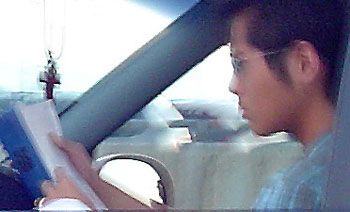 I find
that I come across the most interesting things when I'm driving, and don't have my camera handy. So I've decided to take my trusty Sony Cybershot with me everywhere I go now.
Take this fellow
for example. I was totally impressed that this young guy, possibly coming back from a weekend in the Muskokas, would try and squeeze in some summer studying on the 401.
I never studied
in high school. I am surprised I did as well as I did. Now I look back at those years and I think I should've been like this guy, studying when I had the opportunity. But, instead of reading, my sister and I would spend day-long car trips eating candy non-stop. My parents didn't mind because it kept us quiet. Ah, at least I have good memories of eating Runts, Dweebs, Punky's, and wiping boogers on my sister.
I think if I had friends like this guy, I probably would've studied more. Maybe my 79 would have turned into an 89 that I could be proud of. Although 79 isn't so bad, 89 is a higher number, and therefore better.
The family
in this vehicle must be religious, judging by the crucifix hanging on the rear-view mirror. It baffles me that someone could have time for church, family, school, studying AND playing. Everyone plays right? Right? Okay, so maybe church is SO flippin' fun for this guy that he doesn't need to play with his friends.
Well
, I'm glad to see he is a religious guy. I think that shows he has good intentions towards others, and that when he dies, he and his family will be happy that he's going to a better place.
But what about the people he kills?!
AAAAACK! HE'S DRIVING!