The Price of Cracks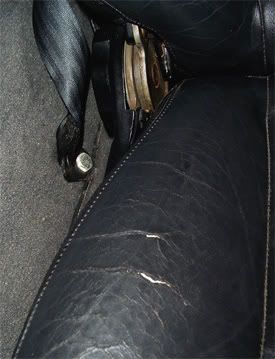 Cracks
are something that the owner of any leather seat dreads. On Tuesday night, the cracks in the passenger seat of my DeLorean finally split. That moment is burned into my memory forever, as I crouched before the thick and luxurious black leather and shouted, "Nooooooooo!"
Leather cracks when it dries out. And leather that is 24 years old is bound to get a little dry. I tried my best, as did the previous owner, to keep the seats soft and flexible with excellent lotions such as Eagle One Leather Conditioner. But, the leather has been in the car far longer than it was on the cow. Cracks were inevitable.
It might sound like I'm complaining
. Far from it. The rest of the seat is in fantastic condition, and the driver's seat looks almost new. Very impressive for over two decades of use. But what about those people who are restoring a neglected DeLorean? What about the D that has 200,000 miles of wear & tear on its seats? What can the owners do to salvage them? Duct tape? I've seen it done, but No! There's a better solution. Seat covers.
I'm not talking about those fake fluffy cow-spotted covers everybody has in their Jeep. There are 'authentic' leather covers available from a couple of places in the U.S. Back in 1991, DeLorean World magazine vol. 8 had an advertisement for Sheepskin covers for $436.68 per pair. Not bad, but that was 14 years ago.
In the Winter 2005
issue of DW magazine, the DeLorean Motor Co., in Texas, offered leather seat covers for $699 per pair. These covers simply slip overtop of your existing cracked seat, hiding the offending butt-cushion from view. Only
you
will know that your seat truly sucks.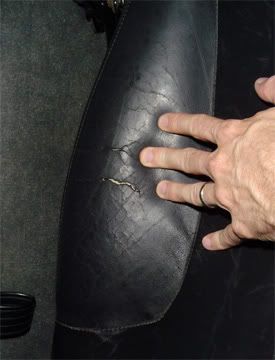 Since original seats
are no longer available, the seat cover is a good option. But if you've got the extra dough, you can go one step better. The DeLorean Motor Company also offers leather seat covers pre-fitted to brand new seats for $1199 each. That's $2398 for two "new" seats! Translate that to Canadian funds, and a pair will run over $3000 (plus shipping and taxes). $3000 just to fix this crack on the right?
You can't shop around for a deal in the DeLorean world, but there are a lot of skilled upholsterers out there who could probably recover your cracked seats for less than the cost of slip-on seat covers. Another less-favourable option is to replace your seats with the bucket seats out of a Chevy S-10 pickup or Hyundai Pony. You can probably find a really great deal in your local junkyard. But if you take good care of your seats, you'll never have to consider these options.
And if
leather is not your thing, you're in luck, because cloth seats are even cheaper to repair or re-upholster. But for the gotta-have-that-luxury-die hard, nothing can hold a candle to the slippery feeling of a thick leather.
Kudos to John DeLorean for choosing such a high quality, long-lasting material.