Jimmy Dillnuts Strikes Again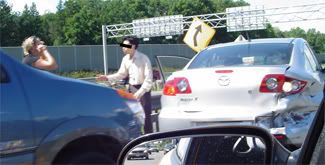 I have a knack
for happening upon accidents while driving.
The
last accident I photographed
happened under the exact same circumstances: on my way home from grocery shopping, on a Sunday afternoon. Here's the scene I squeezed past yesterday on a major highway.
I think
this accident must have happened less than 30 seconds before we saw it, as the vehicle occupants were just stepping out as we approached, and confronting each other as we passed. Broken glass and pieces of plastic crunched and popped under our tires as we rolled by.
From what Suz and I could hear in the brief moment it took us to drive past the scene, we ascertained this: Girl very upset. Jimmy very sorry.
I am
really quite surprised at the minimal amount of damage done to the Buick Rendezvous and the Mazda3 involved in this accident, considering that the average speed on this section of highway is about 120 kph. What you can't see in the picture is the Mazda3 also had damage to the front bumper, similar to the rear bumper damage.
We watched
two different cars pull onto the median just beyond the accident. I wonder what kind of good samartians were driving those cars. Would you stop on a busy highway to help? I didn't. I drove home, happy that we were not the ones on the side of the highway screaming at Jimmy.
-------------------------------------
Oops! It seems that I forgot to post the results from last weeks'
Bed Poll
: To see the results click
here
.