A DeLorean-Powered Fridge
This past weekend a tremendous storm caused a colossal power failure in my city. We were without power for almost 3 full days as two transformers exploded and electrical lines caught fire just a street away.
But I was prepared for the zombie apocalypse with my 2000 watt inverter.
Our hydro company, a bunch of douchebags, refused to even acknowledge that our neighbourhood was powerless. A day passed and still no trucks and no information available. Not knowing when power would return, furious neighbours stormed the grocery stores with pitchforks and bought up all the ice supplies.
As they returned home some of the curious ones asked me why my garage was open, and why my DeLorean was running. The answer?
I splurged on a garage door opener with a battery backup - and my 32 year old DeLorean was powering my fridge. Pretty ironic if you know the original BTTF Time Machine was supposed to be a fridge.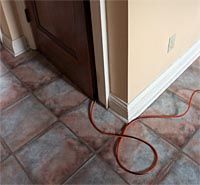 Most people use inverters for... well... I really don't know. Comfort camping? Doing karaoke on the way to work? Building birdhouses with power tools inside minivans in remote areas? Anyway, the inverter allowed me to plug in my fridge for quite some time. I simply ran the extension cord through the garage door, into the house and around the corner
to the fridge.
It was a hot day, and the DeLorean idling in the garage quickly raised the temperature to 32C - but my Toby fans ran strong. Everything was looking good, and envious neighbours said "Wow" a lot.
In the end however, the inverter gave out. Apparently a 520 watt fridge is too much for a self-proclaimed "Heavy Duty" 2000 watt inverter to handle. Thanks, Motomaster!
But soon hydro was restored. I suppose in an alternate 1985 we would've had to throw out the entire contents of the fridge. But as it turns out we only lost some frozen bread, shrimp, corn and bananas. And I don't mind. Because I certainly wasn't about to make a shrimp/corn/banana sandwich.
Labels: DeLorean, power failure, technology