Holy Retirement Plan Batman!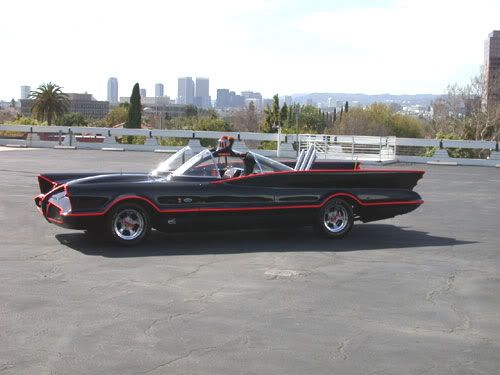 I am
a huge fan of Batman, and Jodster reminded me of that fact when he mentioned the 1966 Batmobile in a
recent post
. As I walked past his computer yesterday, I actually yelled out "Whoa! The Batmobile!" and jumped up beside him to have a closer look at the image on his monitor.
I was instantly
reminded of the time I saw the original Batmobile for sale. In October of 1989 my dad and I were attending the Carlisle Car Show, in Carlisle, Pennsylvania. For hours we trudged up and down the gravel & dirt roads lined with classic cars, nearly all of which were for sale.
Among them
was The original TV series' Batmobile. I can only assume the owner was trying to cash in on that summer's biggest box office smash,
Batman
, starring Michael Keaton.
I remember running
up to that unmistakable car, sad to find that the owner wasn't around. With no one to talk to, we couldn't ask any questions about the atomic batteries or Batphone. But we did stand there for a long time admiring it, and the hand-painted board describing the incredibly detailed history of the amazing car. The asking price? $10,000 U.S.
Being a teenager
and not really knowing the value of a dollar, yet knowing that my dad loved cars enough to have 3 parked in our driveway, I begged him to buy it. I didn't let up for an hour. He actually agreed with me that it would be a great investment. But we simply didn't have the money.
The car was
in fair shape, but it definitely needed a restoration. Whoever bought it made a smart move. It now sits in the
Petersen Automotive Museum
, in Los Angeles, with an estimated value of
one million dollars
.
All I need to do
is go back in time with
my DeLorean
, buy the original Batmobile, and I can retire.