Even Sony Know They, Themselves, Suck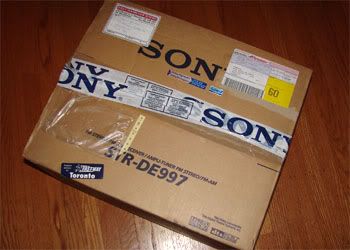 Sometimes
I hate being right.
Remember when
I returned my
Sony STR-DE997 receiver
to be repaired under warranty? Remember how I was suspicious that it may not have been repaired? Well, I was right.
At home,
I reconnected the 7.1 receiver and took it for a test drive. I loaded The Matrix into my 8-year-old Sony DVD player and skipped to the scene where Morpheus explains the Matrix to Neo, in the white room. I was dumbfounded to see they each had 5 extra legs, ghosted to the right. Not only had the damn receiver NOT been repaired, but I don't think they even looked at it. I examined the screws in the case and found them all to be flawlessly perfect.
Consider this:
If someone unscrews a dozen tiny black screws, then screws them back in place, chances are there's going to be a tiny scratch in the paint, unless that someone uses a rubber screwdriver - and as far as I know, those don't exist.
I returned to EHR
and explained the problem for a second time. The dude behind the counter seemed surprised. After I told him the same hookup through my old 5.1 Sony receiver resulted in a perfect picture, he attached a special note to the file that stated this was the 2nd time the unit had been in for the same problem. He then told me they would test it in the store before they gave it back to me. I appreciated this, as it was a long drive for me.
Eleven days passed
, and I received a phone call on the weekend saying my receiver was repaired.
Before unhooking
all my equipment to get the 997 back into the mix, I decided to test the video signal first. I ran a line from the DVD player into the receiver, and a 2nd line into the TV. The result was disappointing to say the least. The video noise problem had
still
not been fixed, to be precise.
I returned to EHR
Monday and spoke to the manager. He understood my problem and sympathized with me. Being a responsible manager concerned about keeping his customers, he exchanged my flawed receiver for the more expensive
Denon AVR-1506
7.1 surround receiver.
I originally purchased
the Sony STR-DE997 7.1 receiver on sale for $397, half price. But, according to the store manager, a Sony rep even said this unit is not worth $800 and should have sold at $397 to begin with.
What
does that tell you?