Something New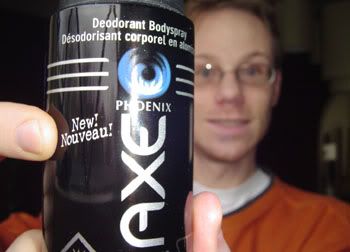 It's 2006.
Time for something new.
No, not deodorant.
I've been using that for a few months now, much to the relief of my co-workers. And, no, Axe Body Spray isn't new either. This particular scent was new a few years ago when I got it, but Axe itself isn't new. In fact, Axe is really old. It's the North American version of Lynx Body Spray, which has been available in merry old England for decades.
So
what's new? Tag.
Okay, but
what's
really
new?
I've started
a new blog. It's a little romp into the movie world featuring important information that I'm sure everybody (as wacky as me) has wondered at some point. Titled
The Last Word
, and accessed at
http://cuethecredits.blogspot.com
, my new blog will feature the last word of movies - the final word before the credits roll.
I've invited
my film fan pal
Jodster
to join me in posting these important last words. Also, I'd like to point out that Jodster came up with the excellent and appropriate URL for the site. He has a knack for those things.
In order
to get a jump-start, I've decided to start off my new blog with a triple-whammy: The Lord of The Rings Trilogy. Thrill to the last word of
The Fellowship of The Ring
. Delight to the last word of
The Two Towers
. And rejoice to the last word of
The Return of The King
.
So, welcome
to my new blog! I hope you find it informative. If not, don't blame me. I'm simply a messenger, bringing you the last word.