Blogging Just Got Better
Thanks to Suzy Q
, I can now take pictures 25% faster, 50% bigger and 100% more radical! Christmas morning greeted me with the Sony DSC-H1, a digital SLR type camera of totally kickass, professional nature. I can't actually call it a true single lens relex camera though, because the eyepiece is actually a tiny LCD screen.
It features
a whopping 12x optical zoom, with a pressure sensitive zoom button allowing for slow, accurate zooming, or a very fast full extension of the lens.
The Macro mode
is so serious it makes Mr. Spock look like Adam Sandler. Using the macro mode, I could zoom in so close to Spock's ears that I could count his DNA strands. For anybody who really wants to know, the macro mode will focus as close as 2 cm! And I thought my Sony P-52 would take close pictures at 3 inches! And it does, considering some camera's macro modes only work as close as 6 or 7 inches. (And just in case you were wondering, 2 cm is 0.8 of an inch!)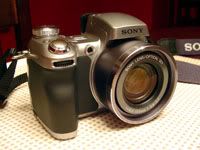 My favourite feature
though, is the video mode. Although it's becoming more and more standard, I really appreciate the 30 frames per second filming, which is the only reason I ever wanted to upgrade from my DSC P-52, which only films at 16 fps, but continues to take pictures at a reasonable 3.2 megapixels.
The H1
has full manual controls as well as the standard automatic ones, and everything in between, including one of the most extreme features: a live Histogram display! It also features the ability to accept conversion lenses, like wide angle. The only thing this bad boy doesn't have is a unibrow.
It's a 5.1
megapixel camera, which is more than I need. But I'm not complaining since most people think of this as an average. For those who were wondering, 5.1 million pixels will allow me to print up to a 13" x 19" image, just in case I want a life-sized picture of Gary Coleman.