Merry Christmas Jimmy Dillnuts!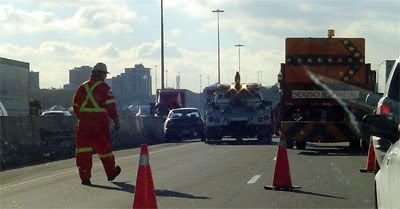 Jimmy Dillnuts
doesn't deserve a Merry Christmas, but something tells me he's gonna have one anyway. Jimmy has caused lots of trouble
before
, but he always seems to escape the jail time and license-suspension he so rightfully deserves.
Although it's not possible
to see the damage in this picture, be assured that it is there. Something large, approximately human-sized, crashed through the windshield of this Toyota or non-Toyota car in Toronto.
The accident happened
about 60 seconds before Suz & I arrived at the scene. The emergency vehicles were still passing us on the shoulder as we approached. Worker McDude was just starting to drop the orange pylons on the road when I took this picture.
We slowly merged
with the three other lanes of traffic, and squeezed past this scene. A quick glace back at the car verified my suspicion that something large, belonging to one Jimmy Dillnuts, elegantly entered the car via the centre of the windshield, and injured the driver.
But maybe
I've got Jimmy all wrong.
I didn't realize
just how thoughtful Jimmy is, giving his fellow humans some relaxing Hospital time during this very hectic Christmas season. What a wonderful gesture. A comfy, adjustable bed, free food, being waited on by a courteous staff of servants. Talk about generosity!
I'm so sorry
I misjudged! Merry Christmas Jimmy Dillnuts! Merry freakin' Christmas.
Labels: crash