So Long, Sony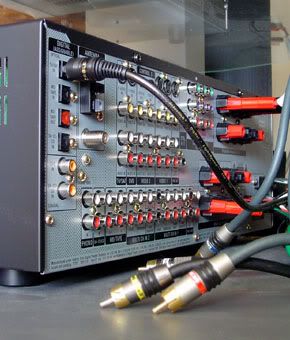 Back in October
I purchased the Sony STR-DE997 7.1 surround receiver when, it seemed, every one of my stereo components failed on the same day.
I equipped
the new receiver with a tesla coil, hoping to obliterate the never-ending army of centipedes which assaulted us on a daily basis. As the fried bodies piled up around the receiver, it must have overheated. Or perhaps it was never meant to multitask as a home theatre and front-line arthropod defense system.
Either way
, we started having problems with our TV. Well, that's not entirely true. We had problems, but now they were worse. On top of a poor cable signal, the receiver was sending a dirty video signal to the TV, which caused ghosting and 'pulling' images. These two things combined made TV-watching almost unbearable.
I did some troubleshooting
, and found that the receiver (and not the TV) was most definitely at fault. I removed the tesla coil, as I knew this would void the warranty.
I drove half-way
across the city and returned the receiver to EHR. Unfortunately, they were not willing to exchange it, and instead, had it sent to Sony to be repaired. That scares me.
The last time
I sent something to Sony for warranty-repair, my 5-disc CD changer was returned to me with a watermelon-sized dent in the case, and the tray would not open. Although this was likely Purolator's fault, I can't help but imagine a bunch of angry teenaged midgets head-butting the CD player in Sony's loading docks just before it was shipped out..
We'll see
what happens in 10 to 12 weeks.