Pinnacle is The Top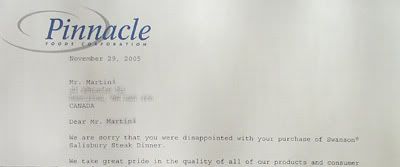 A few days ago
I told you about my Swanson dinner. It was Salisbury Steak. Click
here
to read about it.
Pinnacle Foods
, parent company of Swanson, as well as many other companies including a heck of a lot of Maple Syrup industries, sent me a fancy apology letter. But that is not all the envelope contained. True to their word, the envelope was full of coupony goodness.
What I found
most interesting was just how many other food-type businesses Pinnacle Foods has control over. Their letterhead contains the logos of all those companies: Duncan Hines, Swanson and Hungry-Man, Aunt Jemima, Mrs. Butterworths, Log Cabin, Mama Celeste, Vlasic, Open Pit, as well as some I've never heard of: Great Starts (I assume this is some sort of breakfast product? Or possibly baby food?), Mrs. Paul's (I assume this is some sort of married product?), Lender's (I assume this is some sort of borrowing product?), Chef's Choice (I assume this is some sort of Chef-approved product?), and Van de Kamp's (Dutch camping equipment?).
No wonder
Swanson advertises, "With Duncan Hines Brownie!" and "With Open Pit Barbecue Sauce!" That's some pretty kickass cross-marketing. And it doesn't cost them a dime extra. In fact, it's the same lateral strategy that General Motors uses, especially with their Pontiac and Chevrolet divisions.
GM is the biggest
automotive company in the world, which means they are doing something right. For a food company to copy GM's age-old strategy, they gotta be doing something
really
right.
Perhaps
through this kind of excellent customer service, which goes above and beyond what most would expect, Pinnacle Foods will soon be the biggest food company in the world.
Chew on
that.