Ironing Logic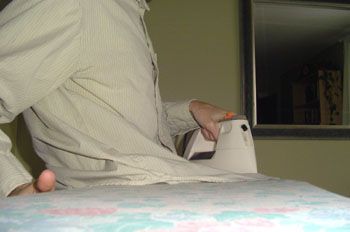 If men have problems
, it's not our fault.
Take this morning
for example. I woke up, late as usual, and didn't know what to wear. I grabbed a shirt that I don't wear very often, and discovered it was wrinkled and curly. Weird.
Being
a responsible, grown-up boy, I decided to iron it. Ironing. Don't get Jodster started on
that.
I plugged
in the iron and made sure the kitties weren't sleeping on the ironing board. (Who wants to clean cat hair off their clean and newly ironed shirt?) I spent a good 5 minutes ironing away my curls and wrinkles and I felt pretty darn good about it. Yay me!
Once complete
, I put my shirt on only to discover, to my horror, that the ironing did jack. Jack shit. Some of you may be familiar with Jack. He's a pretty lazy dude famous for doing nothing.
I was now
running late, (for no good reason I might add). But I couldn't go to work with a bent, cracked shirt. I would be ridiculed! I know I'm useless, but I don't like to flaunt it. So I did what any man would do: I re-ironed my shirt while I was wearing it.
This makes
perfect sense to me. And quite possibly to every man on the planet. Consider my logic: I was fully dressed, and ready to go, so why would I waste even
more
time unbuttoning my shirt, then taking it off, then carefully placing it flat on the ironing board in order to iron it again? It didn't work the first time, so I had no guarantee it was going to work this time either. So, I just pulled it across the ironing board with one hand, and ironed it with the other.
It's not my fault
that 'normal' ironing didn't work. So whose fault is it? I don't know, but I'm going to blame the iron.