The U.S.S. Nautilus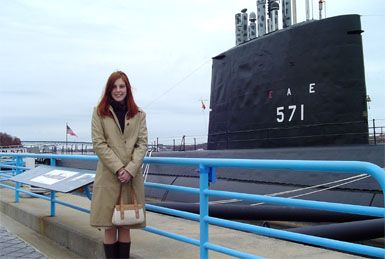 In Groton, Connecticut
, the world's first nuclear-powered submarine was commissioned in 1954. Not only was the Nautilus the first nuclear sub, it was also the first 'true' submarine, capable of staying submerged for months - far longer than the previous generation of diesel subs.
Suz and I
had a chance to visit this famous sub in Groton, which was decommissioned in 1980, and converted to a museum. We drove past the submarine base and all its really neat security, and parked in the Museum parking lot, beside some very early subs and some torpedos that were nearly the same size.
When we entered
we were both shocked to find that the Submarine Force Museum didn't charge for admission - only donations. We didn't discover why, but we both think the museum is funded by the government, and staffed by the navy.
The museum
was impeccable, and the diplays were extremely well-designed. I was impressed with its modern contemporary look. I was also impressed with the delicious hot-chocolate scented washrooms. But I still couldn't bring myself to eating any of the brown treats.
After we examined
the history of ballistic missiles and peered through 3 operational periscopes, we went outside to visit the 51-year-old submarine. We were informed this was a self-guided tour and handed a plastic unit, about the length of a ruler and about 1 inch thick. At one end was a speaker. We held these to our ears and as we entered certain parts of the sub, the information relayed to us was specific to that room.
We weaved our way
through the sub, making note of the 3 dominant colours: silver (steel), mint green, and faux wood-grain brown. We ascended the 1st staircase ever installed in a sub, and we marvelled at the efficient use of space. If somebody told me Ikea had designed this sub, I would have believed it.
When we left
, we were hungry. We looked everywhere, but couldn't find even one submarine shop. Seems the entire town is supported by this naval base, but we didn't see a Subway, Mr. Subb (the U.S. version of our Mr. Sub), or Mike's Subs. Nothing. I was weirded out.
So we
stopped at KFC, and did not try the Catfish sandwich.