Gone Fishin'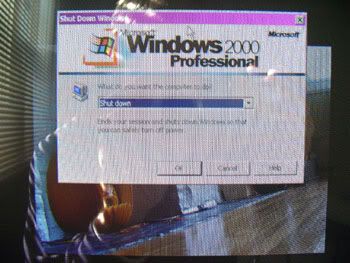 I'm on vacation
for a week, starting tomorrow. My computer will be silent.
So I leave you
with this: Remember all the trouble I was having with my PC? It wouldn't turn on, and I was worried that my blogging days would soon be far behind me.
Well, thanks to
Baseball Player Zombie, I got a 'new' computer about 2 weeks ago. Baseball Player Zombie (BPZ) was able to snatch this Pentium III 450 from his workplace. It was obsolete by their company standards, and was destined for a garbage shuttle to the sun. Instead, the cheaper solution was to simply give me the computer.
This PC
is quite a nice replacement for my old Pentium II 266, which, incidentally, escaped the same fate at the same company 3 years ago. My good friend BPZ gave me that computer as well, which was a replacement for my old Pentium I 166, which my cousin sold to me for $50. I was totally broke at the time, so I stole my sister's DVD player. When she told me the sad story about how it went missing, I sold her my *ahem*
spare
DVD player for a bargain: $50! She was happy. Said it looked just like her other one.
Oh yeah
, I was just joking about that.
Stay Tuned! November 15th is just around the corner.