Halloween Candy Oscars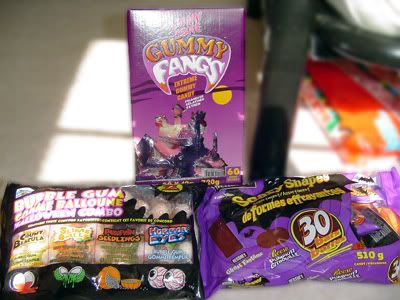 There should be
certain rules, or laws, that candy manufacturers must adhere to in order to call their sugar "Halloween candy."
Sadly
, these days, Halloween candy is nothing more than regular candy packaged in bags and boxes with pictures of bats, pumpkins, ghosts and the occasional dilapidated, and therefore haunted, Victorian-era houses.
Shame on you
candy companies!
That is why
I specifically go out of my way to ONLY purchase novelty Halloween candy - ie, candy that is shaped like something spooky, or has something directly related to Halloween printed on it. These very few companies are tops in my book, and I have invented the Halloween Candy Oscars to honour them and promote these fantastic treats.
Remember those orange gumballs
that had jack-o-lantern faces on them? Allan's candy Kisses? "Monster" candy? And the most recent candy demise - Charm's Dead Heads? Ah, those sweet skull-shaped grape suckers.....White skulls that turned your mouth blood red. What a fantastic Halloween candy! Now, just a memory.
Anybody
can buy any kind of chocolate bar or candy year-round. WHY would you want the same boring stuff at Halloween? You could've bought the same thing at the corner store the day before. Tell me, what is the appeal?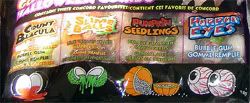 Thank evilness
there are still companies like Concord (who?), yes,
Concord Confections
, who have filled the Halloween niche with products like their collection of gumballs: Count Blacula, Slime Balls, Pumpkin Seedlings, and Horror Eyes. And hooray for Gummy Zone's Gummy Fangs. Not only can you eat them, but you can pretend to be Dracula for a little while first. What a bonus!
Pretty much everybody
out there likes chocolate, and thankfully Hershey's even offers pumpkin and ghost-shape-stamped chocolates. Two skeleton thumbs up Hershey's!
2004's Halloween Candy Oscar
most certainly goes to Charm's for their Dead Heads. But this year it is a tougher decision. After carefully weighing the criteria for "Halloween" candy, the board (me), has decided to award the 2005 Halloween Candy Oscar to Concord for their gumballs. The reason they beat out Gummy Zone for this prestigious award is because they offer four different gumballs, each with their own uniquely creepy properties.
Like
blood, slime, seeds, and... um, horror.
Thank you
to all 5 companies that qualified this year. I hope to invite you back again next year!