An Annual Problem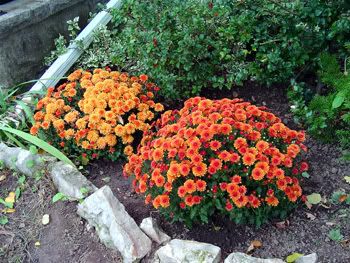 Driving around
this time of year, most of us are familiar with the roadside displays of fall goodies. Mostly it's pumpkins and bales of straw and cornstalks, but there are also people selling colourful fall flowers: Mums.
Suz grew up
on a farm so she scoffs at the people selling bales of straw or hay. It's cow food. It's dried grass. It's practically garbage to a farmer. But here they are, selling cubes of it for $4.99. I can appreciate it because I'm a city boy, and a
Halloween fanatic
. If you have 4 jack-o-lanterns side by side by side, it looks boring. A bale of straw acts as a platform to raise one above the rest, creating interest. I'm willing to pay a paltry $4 or $5 for something that not many people get to see in the city.
I'm
not
willing, however, to pay the outrageous prices that Fortino's charges for those beautiful fall annual/perennials: Mums.
A recent trip
to Fortino's for Halloween candy was a complete bust. Not only was their candy selection sub-par, but their flower prices were insane! $12.99 for a 12" Mum. Now, that price might seem normal until you drive around and see that literally EVERYONE is selling Mums for $4.99. Sometimes they are 2 for $10, which is a deal because it usually means no tax. $12.99 might also seem like a pretty good price for a 12" pot, if that were actually true. The pots we saw at this grocery giant were no larger than 8 inches. So is it $12.99 for an 8" Mum? And are these Mums annual or perennial?
Annual
or Perennial? Which is the right choice?
Last year
Suz and I bought 4 annual Mums for less than $15.00. We planted them. They were pretty. They died. And we didn't care.
This year
we decided to buy perennial Mums. We found 12" pots for $5.00 at a roadside set-up. We're happy to support these little businesses. Not only were their prices excellent, but their plants were twice the size of the pot, and about 3 times bigger than the wilted Mums at Fortino's.
What balls
Fortino's must have to charge 138% more for plants that are a third of the size. And it's not like these other Mum's are some secret. They're on every street corner! The Fortino's owner and Managers must drive by half a dozen of these places on their way to work.
I don't know
how they sleep at night, but I bet it's on a bed stuffed full of money.