Invasion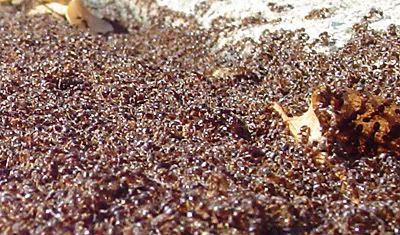 The invasion
has begun, and I'm not talking about
CTV's new show, Invasion
.
My invasion
is a little different than the one Wednesday nights at 10:00 p.m. Mine is ants, and it started yesterday. Were you confused by that brown blob in my photo? Well, look at it again. Those are ants. Not hundreds. Not thousands. Not even millions. I did a quick calculation and estimated there to be exactly eleventy billion and two ants on my driveway. If you don't trust me, go ahead and count. I'll wait.
I should point out
that there is one big similarity between my invasion and CTV's show of the same name. They're both really boring to watch. The ants on my driveway did nothing but crawl over each other for hours. And, likewise, absolutely nothing seems to be happening on CTV's
1 hour
sci-fi show too.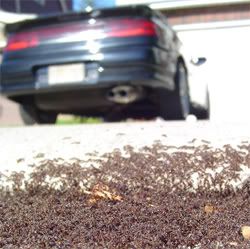 After two episodes
, I'm already sick of the show. I love alien movies and TV shows, but this one has failed to live up to the hype. The premiere should have grabbed me and pulled me in like the Enterprise's Tractor Beam. But someone in Engineering must have reversed the plasma flow, because it has done the exact opposite, and pushed me away. I doubt I will hang around for the 3rd boring episode.
This morning
I noticed that my mass of ants were gone, probably scooped up by the local homeless Anteater, Gerald. I'm kind of hoping that the same thing will happen with this dull new TV show. Maybe I will wake up one morning and notice it's been pulled due to lack of viewership. And maybe then the show's producers will learn that you need good writers, and not just a good theme or idea to pull off a great show.