Chinese Treasures
Indiana Jones
, eat your heart out. Almost.
Earlier
in the week I wrote about going to Toronto. But I didn't say why. It's not a secret, but my blog got sidetracked by the O.P.P. As
RainyPete pointed out
, traffic to Toronto is a nightmare on the best days, so unfortunately, taking
the DeLorean
would've been a mistake.
The truth is
, sticking with
the Chinese theme
, Suz and I were hunting for Chinese Furniture. And boy did we hit the jackpot.
After searching
for 'Chinese Dynasty' at 183 Spadina, an address that does not exist, we found Kuda. We were blown away by the number of pieces this warehouse/showroom had. And they were phenomenal! Some of the pieces were newly made while others were new but made to resemble antique chinese pieces. But the real treasures were the actual antiques: sideboards, tables, dressers, chairs, etc.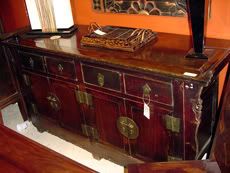 We were looking
for something like this 1890 Shanxi buffet table to go with our oriental-style chandelier. Read about the chandelier
here.
This buffet was too red, so a fellow named Adam took us into the warehouse, which instantly reminded me of '
Raiders of the Lost Ark
'. Crates and carefully wrapped antiques were piled high to the ceiling, just like the end of the movie, when the Ark was being stored. You had to step sideways to get through many of the narrow passageways, to find treasures that had not been seen by the public.
This
is where we found the perfect sideboard, hidden away, down a dark passageway, almost grey with dust. Wiping it away revealed the gleaming dark wood, which has battled Father Time for 120 years.
We pick
it up tomorrow!
If
you're interested in Chinese or Indonesian-style furniture, antiques or reproduction, you must visit
Kuda Furniture
.