Conceding the Chandelier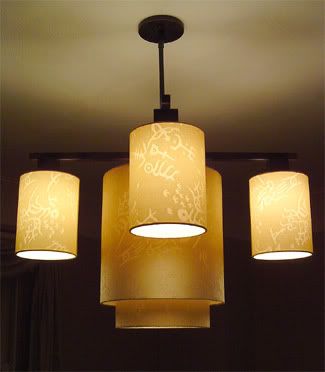 When people ask
me, "How's it hangin?" I will always answer, "a little to the right."
Suz and I
bought a Kovacs chandelier for our new dining room. We searched every lighting store from here, almost to the T Dot, and we couldn't find anything oriental, or oriental-inspired. So we began searching online, and ended up finding something incredibly perfect in the most Chinese place imaginable - Minnesota. Two weeks later, UPS, those dudes in spiffy brown shorts, delivered it to us.
This chandelier
, although wonderfully silky and just-what-we-wanted, has turned into the bane of my existence. I have fought with this chandelier to the point of both mental and physical exhaustion. No matter what I try, the bloody thing will not hang straight.
I would expect
this kind of poor workmanship from a $50 Wal-mart light fixture, but not from a designer who has hundreds of light fixtures hanging in museums worldwide.
Unless
, of course, they're museums displaying the best crooked chandeliers in the world.