Scooped!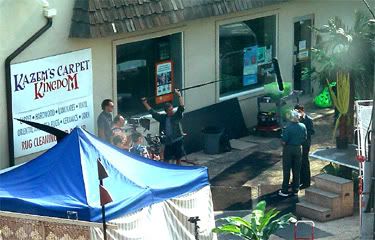 Jodster
has beaten me to it. He's got reporter-like reflexes I suspect. His post on this same subject went up earlier this morning.
We stumbled
across this set the other day, where
CTV
was filming their new comedy series, Jeff Ltd.
Jodster
and I stood side-by-side snapping pictures while actors walked around outside of Kazem's Carpet Kingdom wearing fish helmets. Yeah. Fish helmets.
CTV is producing
the 1/2-hour comedy show along with
The Comedy Network
. The new series will appear on both stations. They're aiming for a December start, but we may not see the new show until January.
One of the scenes
had characters chasing a camel up a nearby street. I wonder where that camel came from. Canada doesn't have a great climate for camels. I doubt the old girl curls up in front of sombody's fireplace on grey November days. So where did it come from? L.A.? That's a long truck ride. But I guess they could make up time since they didn't need to stop for a drink.
If you're interested
in camels, check
this
out. If you're interested in the
Sopwith Camel
, go
here
. If you're interested in this new TV show, check out
JPTH International
. Jodster has links coming out his wazoo. But no links to wazoos. Sorry.