Toshiba vs. Sony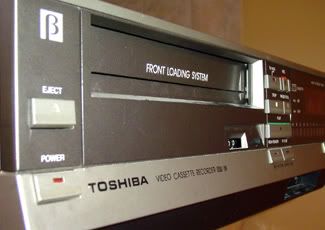 Have you heard
? Toshiba and Sony are battling it out over the future of DVDs.
Both companies
are very well-known for their totally radical electronics. Both hold headquarters in Tokyo, Japan. And both think their own technology is the best. And that is why the talks have stopped.
Sony
, along with other big-name companies like Mitsubishi and Panasonic, developed the DVD technology known as Blu-Ray. The laser is actually blue instead of red, and is therefore ultra-lucky-happy-super-number one and can cram more information onto a disc via brute force. Blu-Ray DVDs can hold approximately 25 GB, while a dual-layer disc can hold about 50 GB. It supports multi-layer discs (up to 200 GB) as well, which means one day your Blu-Ray won't be sitting on the curb.
The downside is the price. It costs more to produce a disc like this. Also, the laser draws so much energy, the lights in your neighbourhood will dim while you are recording shows onto a disc.
Toshiba's DVD
technology is known as HD. It can hold 15 GB of information, which doesn't seem like much, but that's where Toshiba's strategy lies: HD discs are cheaper to produce. A prototype tri-layered disc will hold a maximum of 45 GB.
Unfortunately
there is no middle ground here. HD and Blu-Ray discs and players are not compatible. Somebody has to give and neither side is budging. What does that mean for you? Three DVD players: your old one to play your current collection, a Blu-Ray to play Sony movies, and an HD unit to play Toshiba's stuff.
I was looking forward to Santa bringing me a DVD-recorder, but I faxed him earlier this week to put a hold on my order until this mess is sorted out. The fat guy jumped the gun in 1980, and brought us a Betamax.
If we have learned
one thing from the Beta, it's that Sony is stubborn. If we have learned two things from the Beta, it is one word: Wait. Somebody's gotta give, but who?
Labels: Blu-Ray, HD DVD, technology