Copper Elephants and 1/4 Pounders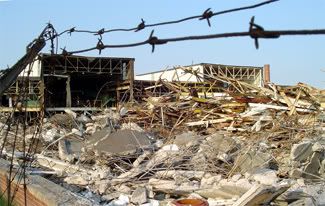 There was
a large appliance-making factory near my house for many years. After some financial difficulties, it could no longer stay in business. Luckily, this year, the local University purchased the property for a whopping $13 million. Their plans are to turn it into a research facility. The neighbourhood is very happy about this.
Demolition
has started on the appliance factory, and has been going on for a few weeks now. It is sad to see this mammoth building being torn down. Piles of concrete and metal cover the ground and fill one of their old parking lots.
I was thinking about the rising costs of metal and scrap metal, and I began to wonder how much scrap metal was in this building, which was made from metal.
An average
single family home uses 439 pounds of copper*. 195 lbs. for wiring, and 151 lbs. for plumbing (plus misc. copper). Being conservative, I estimate this section of the appliance factory to be the equivalent of about 75 average single family homes. That means it probably contained 32,925 pounds of copper inside it. That's the same as 3 full-grown African Elephants, or 131,700 Quarter Pounders with Cheese, no fries.
The current price
being offered by scrap dealers is $1.7695 U.S. per pound of copper. That means the University could recoup $58,260 just by selling the copper wire and plumbing from inside the building. That's 0.44% of their purchase price. Wow! Imagine if they could sell the other metal the building was constructed from. Perhaps they even could have stayed in business if they had invested their profits in something lucrative, like the scrap metal industry.
But how do these numbers apply to the individual? Well, remember that hideous life-sized copper elephant your aunt gave you as a wedding present? A scrap dealer would give you $23,003 for it. Imagine how many Quarter Pounders with Cheese that could buy!
----------------------------------------------
*
Statistics from
this copper website.
The Statue of Liberty contains 179,000 pounds of copper.