Yay Beck!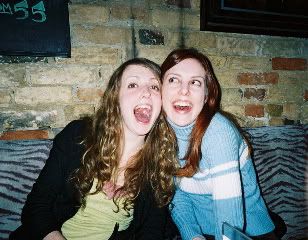 It's always fun
when Suz's sis visits. (Left side)
On the weekend
, her sister and parents stayed with us. Suz's mom was even in the car with her when
the accident
happened all around them.
But
they weren't really visiting us. Our home was just a stopover. Beck is on her way to Whitehorse. 'What's in Whitehorse' you ask? They've got it all, including Tim Hortons and even Starbucks. I doubt there are hot dog vendors outside the local Canadian Tire, but I'm sure you can purchase a disease-wienie somewhere. It's not the first time she's been so far north. She lived in
Iqaluit
for a year, doing heartwarming, and heartbreaking stories for CBC radio.
When she's visiting us, though, the mood definitely lightens. Every picture of Suz and her sis look just like this.
One of the best things
is how Beck always makes me feel like a teenager again, by introducing me to really great music. The kind of stuff I listened to a decade ago. Radical stuff. Stuff that usually doesn't get airplay. But on this visit, for the first time, she didn't have anything to share with me. However, we did crank Holla Back Girl! and I secretly video-taped Beck dancing wildly in the kitchen.
I think
it would be very cool to visit her up in that Yukony area. I always seem to forget that we have a couple of big cities way up near Santa. Real cities, with big buildings, and lots of people. And they're Canadians, just like me. Only colder.