Ferrari Dino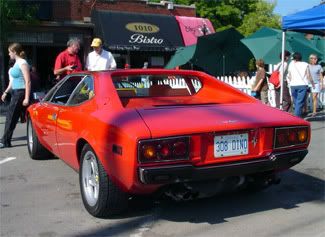 Ah, the Dino
, named after Enzo Ferrari's son, who died of leukemia.
The Italian-themed festival
we attended on the weekend had a Ferrari car show in front of the old theatre, where I took some shots of a Dino. Some of the supercars were new, some were old. Most were red. A few were yellow. Magnum P.I.'s 308 was there. Well, it wasn't
really
his. It actually belonged to Robin Masters, but Magnum was allowed to use it.
There are
a number of auto afficionados, car-guys, motorcoach enthusiasts, wheels worshippers, automobile addicts, gas-guzzler gurus, motor vehicle devotees, car-crazy nut-jobs, and Ferrari freaks out there who think the Dino isn't a Ferrari. They think this because the Dino didn't have a scripty Ferrari badge, and because for the first few years it was equipped with a 2.4L V-6 engine.
But
here's why they're wrong.
The number one reason
why the Dino
is
a Ferrari, is because it was made
by
Ferrari. Seems logical, doesn't it? This particular Dino was a V8, and wore the badge: Ferrari Dino 308GT+4. It even has the little horsey on the grille, and we all know that little horseys are what make cars fast, right 1978 Ford Mustang?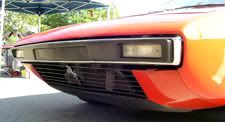 While checking out this unusual Ferrari, I ran into one of my homies, P-dizzle. He was chillin' at the event, checking out the wheels as well. He knows the owners of this particular Dino and informed me that they used to use it as an everyday car, for work, groceries, vacations, everything.
Wow!
Imagine taking your Ferrari to Costco just to quell your craving for Swedish Berries! Some things I'd like to do with a Ferrari: go to Canadian Tire for an oil change, Home Depot for a couple of propane tanks, and a Hyundai dealership to enquire about a trade-in. I'd also really love to buy an 8x6 area rug at Wal-mart, and try to hold the 'bonnet' shut with a bunch of rusty bungie cords. As everyone gathered around me to watch in horror, I'd just tell them "don't worry, it's not a
real
Ferrari. It's just a stupid Dino." I'm sure they'd all be relieved.