Busted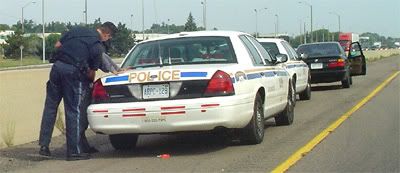 On Monday
Suz and I went to Toronto, also known as T.O. or, even more stupidly, the T. Dot. I do not know who comes up with these silly names.
On our way there we encountered the ever-reliable O.P.P. (Ontario Provincial Police for you faithful American readers) making a sweet arrest on the side of the highway.
It was
difficult to guess the precise and exact reason Randy Nutsack (
Jimmy Dillnuts' cousin
) was being arrested, but there's always the fun of guessing!
What's curious
is that passenger door of Randy's BMW was wide open during the arrest. Was Randy the passenger? If so, what did he have in his possession that would make the O.P.P. arrest him? Did he have drugs? An unregistered firearm? Was there a warrant out on him? Maybe he wasn't even Randy! He stole Randy's identity!
My sister
nearly had her identity stolen about 2 years ago. But it failed thanks to a very intelligent Sears clerk, one strange coincidence, and a helpful leprechaun. When my sister went into Sears to buy something, the clerk asked her if she wanted a Sears card. She said okay, and filled out the application. Then the clerk noticed that it was the exact same name and address that a MAN just tried to use only
one hour earlier
to acquire a Sears card. At first my sister was the identity-theft suspect. But a manager asked some hard questions and finally ascertained that my sister was the true beholder of her own identity, and it was the man who had tried to steal it from her.
That situation
made me question identity theft. What if you decide to steal someone's identity? You rifle through all their garbage, steal their bank statements and receipts that have credit card numbers on them. Maybe you even make a fake I.D. for yourself, with your own picture.
Now
, after all that hard work, what if you stole the identity of a criminal? I can tell you, with my luck, I'd accidentally steal the identity of some sacksucking dillhole murderer on the lam.