Is Russ Powers Doing His Job?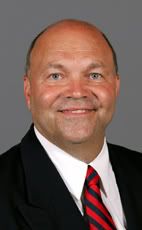 This is Russ Powers
. He is my Member of Parliament.
Back in October
I read an article in the newspaper about electric cars that really milked my goat. For the first time in my life, I wrote to my trusted MP:
Mr. Powers,
My name is Martini, and my wife and I live in the beautiful community you represent. We are both proactive environmentally, and as such, are extremely offended and angered by the recent meeting between Canada's automakers and Parliament Hill.

Canada's automakers falsly claimed that we do not want environmentally friendly vehicles. Specifically, Joe Hinrichs, president of Ford Canada, made the unbelieveably insulting statement, "Consumers don't want to be forced into buying vehicles that don't suit their needs." The fact is, these automakers are currently forcing us to buy vehicles that don't suit our needs. Canadian automakers, and especially Ford, do NOT represent us. The fact is we DO want environmentally friendly vehicles, but we are being forced to purchase gasoline- and diesel-powered cars because they are the only options. Hybrid vehicles are a waste of technology and money, as they still require gasoline in order to operate. We are not being fooled by this pseudo-solution to our environmental problem. My wife and I were ready to buy an electric or hydrogen powered car 3 years ago, but since none were available, we were forced to purchase a gasoline powered vehicle. Even if we wanted a Honda Insight, waiting lists are absurdly long.

We want and need proper representation! We are not the only ones who feel this way. We are still waiting anxiously for these cars to hit the market. Believe us when we tell you we want these vehicles, and we are in full support of the taxation of less efficient vehicles and rebates on the most fuel efficient ones.

Thank you for your attention and time,
Martini
(my email address)
(my phone number)

Here is
the reply I recieved:
--------------
That's right.
Nothing. Seven weeks. Nothing.
The worst part
is that I know Russ got my email. How do I know? Because he started mailing campaign promotions and brochures to me. I don't recall asking for these things. I asked for proper representation.
Here's the
real kick in the teeth. His web page doesn't work, but his 'member listing' says this:
Russ Powers - As a Member of Parliament, Russ' priority is to represent the people of this Riding and to be a strong and effective leader on the issues that are important to his constituents.
Seems to me
that his priority is ignoring his constituents. But really, I don't know what makes me more upset; the fact that my own MP is ignoring me, or that the Ford Motor Company says I don't want an electric car. I don't remember telling them that.