Monster Cereal Deal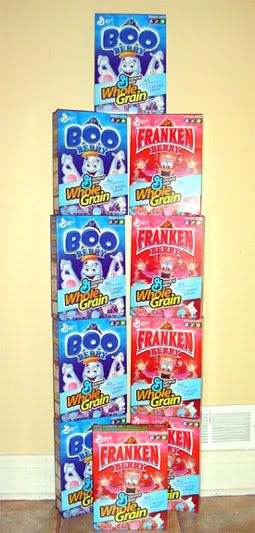 I have said it
before
and I'll say it again. I am a cereal fiend. But a fiend with a twist. As much as I love cereal, I also get sick of eating the same thing over and over again. That's why my most favourite cereal of all time is a 3-way tie betweenn General Mills' Monster Cereals.
I love all three
, but if Frank, the spokesmonster for Frankenberry cereal held a strawberry to my head and forced me to pick an absolute favourite, I'd have to say Boo Berry. Partly because I love ghosts, and partly because I love blueberries.
I must
take this opportunity to apologize to my longtime best-breakfast-friend, Count Chocula.
Dear Count, there are two reasons why I can no longer choose you as my breakfast soulmate. The first is that General Mills has destroyed you by changing their marshmallow recipe. Once your marshmallows were firm, delicious and crunchy, but now they are nothing but mush and sog. The second is that you are too plentiful. You are available everywhere! I can't turn a corner at the local Barn or Fortino's without seeing your face. Were you more rare, like your fruity brothers, I think I'd love you more. I'm sorry. Please don't hate me.
The rarest
of the Monster cereals are Boo Berry and Frankenberry. These two morning treats have not been available in Canada for decades, probably pulled from the shelves after Fruity Yummy Mummy's disastrous debut.
And through relatives
and friends in the U.S. I have even learned that Frank and Boo only make rare appearances at Halloween! Although an extremely cool marketing ploy, I'm saddened to learn their popularity has diminished in the last 20 years. C'mon General Mills! Advertise! Get these bad boys on the most-wanted list again!
I contacted General Mills
in 2004 because it was possible to order these cereals at any time of year. However, they refused to ship to Canada. What's wrong with Canada I ask?
But I digress.
Taking a trip to Connecticut 4 days after Halloween was brilliant. Upon our arrival I quickly headed out to every grocery-type store in the area. Target was clearing out "Seasonal" Count Chocula for 49¢ per box! A great deal, but it's abundant in Canada. I was searching for the rarest of the three.... And I found them in Wal-mart for $1.98 a box!
Twenty dollars
and some bizarre looks later, I loaded 10 boxes of joy into the trunk. Now, every morning I insert that chemical-infused joy into my mouth, imagining the days of a childhood that never was, because I was hardly ever allowed to eat this kind of cereal.
If I stretch it
, I might make the cereal last until February. Now my countdown to sadness begins.
Labels: Boo Berry, Frankenberry