DeLorean Hibernation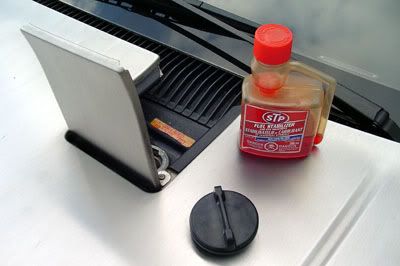 The weekend
was all about cars. The Talon got its snowshoes put on, and the DeLorean was tucked in for its long winter nap.
I haven't driven
the DeLorean in about 3 weeks, so the battery was not strong enough to start the engine. The older the battery gets, the more I have to charge it. It's a tough job, since the battery is located behind the passenger seat, in its own special compartment.
I lifted the carpet
, unscrewed the panel, and slid the battery out. I connected my Motomaster battery charger, and let it simmer, stirring occasionally. About 6 hours later, I started the car, and pulled it out of the garage so that the exhaust wouldn't set off my carbon monoxide detector.
I lifted
the fuel door in the hood and added the STP fuel stabilizer. I continued running the engine for another 5 minutes, then pulled the D back into the garage.
Whenever I pull
into a gas station I am thankful that I've got an early 1981 model DeLorean. As if the car itself doesn't attract enough attention, lifting the entire hood to put gas in sure would. Once production of the fuel-door hoods ceased, the driver would have to pop the entire hood in order to put in gas.
-------
Some Facts
-------
Because stainless steel
is so hard, stamping the hoods with gas doors and the grooved lines proved to be costly. Many hoods cracked when they were stamped. In late 1981, they stopped production of the fuel-door, but continued with the two aesthetic lines down the hood. But even those grooved lines proved to be troublesome and part-way through the 1982 model year, the hood lost all its detail.
When the company
went bankrupt just before 1983, the last of the DeLorean's were built as 1983 models with metric speedometers. Exactly 100 were built specifically for, and exported to, Canada. But it isn't known just how many U.S. models were imported here by excited car collectors. The total number of Canadian DeLorean's is unknown, but I have read estimates of around 200.
Labels: DeLorean