Food Drive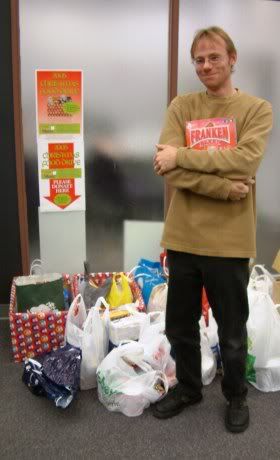 Our workplace
holds a Food Drive every year during the Christmas season and enjoys the feeling of being able to help the needy families in our community. Each department competes against each other for the grand prize, a pizza lunch, which the Business Office has never lost. We don't actually need this encouragement, but it is a tiny added bonus to being generous.
This year
I held the honour of donating the single most expensive item: A box of my cherished Frankenberry cereal. In fact, I am not the only one who cherishes this rare breakfast food. As everyone gathered around to see what
Jodster
was taking a photo of, a panicked co-worker yelled, "YOU'RE GIVING AWAY A BOX OF FRANKENBERRY?!?"
Consider this:
I travelled over 1750 kms round trip, and into another country in order to find this General Mill's treat which is only available once a year - Halloween. I sincerely hope that it makes someone happy. Based on the number of desperate Canadians trying in vain to buy this cereal, I know I could have sold it for a mint.
A few seconds later
, Jodster proceeded to trump my offering by rolling in a stolen shopping car overloaded with non-stolen pasta. In Jodster's world, he was a Hunger Hero, but in reality it was the combined efforts of our entire dept. which resulted in that last-minute shopping cart of pasta.
We posed for pictures
with our VP's encouragement, counted the items and boxed them. In total this year, we raised $5,200 in food vouchers and hundreds, if nothing thousands of items of non-perishable food, including one $700* box of Frankenberry.
*
price is only an estimate based on travel time, gas prices, wear & tear on vehicle and CDN/U.S. conversion.