15 Minutes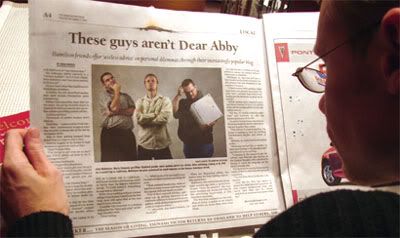 Yesterday marked
the third time in recent years that my weird self has graced the pages of a local newspaper. And this time, it was all thanks to
Jodster.
I joined
the
Useless Advice From Useless Men
blog in late September after a fourth member dropped out. A short time later, our Useless Advice blog was featured on MSN, as Site of the Day. That was a proud day. Especially for Jodster, since the site was his baby.
Now, this half-page
article, including a great photo of myself, 'pondering' Jodster, and 'confused'
RainyPete
in the local paper, has really got our friends, family, and even strangers talking.
Not that
these people are usually mute, but their talking has now focused on us. My mother the optimist truly believes she'll see me as a guest on The Late Show with David Letterman. Hey, don't laugh. You'll hurt her feelings.
My mom
had the same illusions of fame about 3 years ago. That's when the same newspaper
ran a story about the gravestone
that my dad and I found in my backyard. Over the past 3 years, that gravestone has turned out to be a totally sweet Halloween decoration.
And, back in April
2000, my Eagle Talon was featured in the Wheels section of the Toronto Star, with a colour picture. The focus of the article was on the additional power created by the turbo by overriding the factory computer with a GReddy boost controller, therefore none of the other heavy duty modifications were mentioned.
But my creative juices
are feeling kinda low these days, and with only 8.5 fans, I think my 15 minutes is almost up.