Destined To Be Late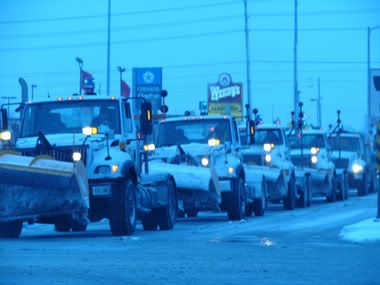 Suz and I
spent New Year's Eve at our friends' place in Collingwood. In previous years we've been working on December 31st and have always arrived too late for the fun snowmobiling and ATV activities. This year was going to be different! With the day off, we packed, shopped, and finally left at 1:00 p.m.
There are essentially
two ways to get to the Collingwood house. There's the country back-roads, which takes about 1 hour and 45 minutes, and the highway route, which takes anywhere from 2 to 2-1/2 hours, depending on traffic, and how much you like to speed.
I know
what you're thinking. Yes, the country roads are much faster. But there are advantages to both routes.
The advantage
of the highway route is that there are only 3 turns involved. The country roads require nearly 20 turns, which translates to "much bigger chance of getting lost."
Due to the heavy snowfall
, we decided the snowplows only had time to clear the highways. We didn't want to take a chance and end up in a ditch in the middle of nowhere. Our choice was obvious.
Our choice
turned out to be a poor one.
The highway was crammed
with 853,000 cars all travelling at exactly 85 km/h. We were mistaken about the snowplows. No clearing had been done at all. We carefully followed the two thin black tire marks ahead of us, as the slushy white stuff piled up all around us.
"Traffic in this town is a slug"
declared six Scuba divers, on their way to a Scuba diver's party.
"I can't wait to move to China where there are fewer cars"
said their leader, Stu.
With my interview
complete, we continued along the trecherous highway. We continued for over 3 hours, finally taking our exit ramp off the highway.
This is where
we encountered the platoon of snowplows beginning to clear roads, about 10 hours too late.
As a result
, we too, were too late to participate in the fun outdoor activities.