How To Replace Your Battery...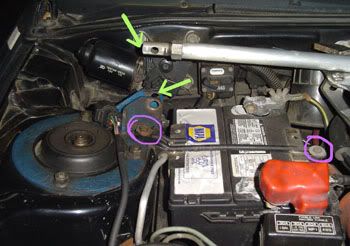 ...In The Dark, in 20 easy steps!
WARNING:
This should only be attempted in the middle of winter.
Step 1.
Make sure you have your replacement battery with you, along with all your tools.
Step 2.
Ensure that your car is parked in the darkest possible place, and aimed away from any light source. When you open your hood, it should cast a slight shadow over your already dark engine bay.
Step 3.
Disconnect your old battery starting with the Negative side. It will be pretty difficult, so make sure you use a long screwdriver to pry the connectors off the terminals, and create lots of sparks. The sparks will help you see what you're doing.
Step 4.
Remove the battery tie-down (circled in purple) with your socket wrench. Mine was 10mm. Yours could be 10mm as well. It could also be any other size.
Step 5.
Remove your Trust aluminum strut tower brace (green arrows) which is blocking the exit route of your battery. Note that your strut brace may be made by other companies, such as WonderBread, Tommy Hilfiger or Johnson & Johnson.
Step 6.
Lift your old battery out.
Step 7.
Carefully drop your new battery in, with the positive terminal on the wrong side.
Step 8.
Remove your new battery, turn it around, and drop it in place a second time, ensuring that you trap the negative wire beneath it.
Step 9.
Pull on the negative wire as hard as you can, until you realize the flesh on your hands will rip off before the wire is going to budge.
Step 10.
Remove your new battery again, and free up the negative wire.
Step 11.
Drop your new battery back in, this time trapping the battery tie-down.
Step 12.
Remove your new battery once more, and move the battery tie-down.
Step 13.
Angrily force your new battery back in for the final time.
Step 14.
Connect the negative wire to the negative terminal, and tighten with your socket wrench.
Step 15.
Attempt to connect the positive wires to the positive terminal. Burn your finger with lots of big sparks as you pull the wires over the terminal.
Step 16.
Tighten with your socket wrench.
Step 17.
Tighten your battery tie-down using your socket wrench.
Step 18.
Reconnect your strut tower brace, otherwise your steering will be spongy and ugly, and people in minvans and UPS trucks will taunt your poor cornering abilities.
Step 19.
Close your hood.
Step 20.
Start your car.
-----------------------
Congratulations!
You have successfully replaced your car battery in the dark. Give yourself a pat on the back*.
*
If you've done the job properly, as described above, your back should be aching.