SmartCar: Officially Dumb?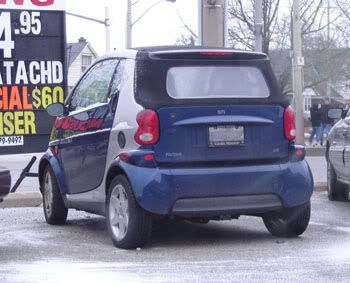 I feel really great
today. Why? Consumer Reports, the Bentley of car testing publications, agrees with me. The SmartCar stinks.
Consumer Reports'
chief tester David Champion says he does not think highly of the SmartCar ForTwo, and was quoted as saying, "We don't think they're particularly good, but we've got a lot of people interested in it."
I don't know
what his reasons are, but I suspect many of them are the same as my own. Hey, I used to be interested in it too! Until I devoured all the info on the SmartCar website. Then, things changed, and
a few months ago
I wrote about why I dislike the SmartCar, using facts taken directly from the SmartCar website.
What's strange
is that Smart owners seem to be offended by those facts, and threatened by anyone who writes about those facts.
The biggest reason
I don't like the SmartCar is because it is fooling everyone into thinking it's some environmentally-friendly, earth-saving, non-polluting vehicle. Most people I've spoken with didn't believe me when I told them it was a diesel. Almost everyone was disappointed to learn it wasn't electric.
I'll tell you
right now - Make it electric and I'll do a complete 180 on my opinion of it. It is a great car, but not for Canada, where fuel is cheap, cities are far apart, and the only thing wider than our roads are the trucks that drive on them. Its tiny size may get you a dozen more mpg over a VW Golf TDi, but if it takes 2 trips to get all your groceries home, it defeats the purpose.
In Canada,
the SmartCar just isn't a great idea. *
Edit
* Originally I wrote about the fact that there's no spare tire. Now, something has been brought to my attention in the comments below. The Smart comes equipped with a can of puncture sealant and inflation foam. This information was not provided on the Smart Car website at the time this post was written. I agree the foam can help in some emergency situations, but it can't seal a blow-out. And when you're travelling on a Toronto highway and hit debris, you don't get a puncture. You get a blow-out that only a spare can help with (assuming it's got air). Which is fine if you only plan to use the Smart on city streets - An ideal place for the car.
Additionally, it's unsafe.
I know what you are saying, nay, yelling at me right now:
It did okay in crash-tests you dolt! Watch the video!
So the doors still open. Now, let me give you a harsh dose of reality, and the reason I think it's unsafe. If someone was driving that car, that poor sap would have just lost both legs. Crash tests do not simulate real life. I will eat my words if I ever see someone walk away from their SmartCar after being sideswiped by a Lincoln Navigator changing lanes at 140 kph, causing the SmartCar to bounce off the guardrail like a 72-pound wrestler, directly into the path of
Triple H
in the form of transport truck barrelling down the highway at a completely normal 120 kph.
Finally, it's
just a diesel engine. Invented by Rudolph Diesel in 1892, diesel engines have been used widely in cars since first being used in the 1936 Mercedes Benz 260D. Plain, boring, dirty, smelly, carcinogenic diesel. There's no technological advancement here. Not like VW.
David Champion
agrees with me that the SmartCar isn't very good. But without test-driving the Smart Car, I don't know what flaws or quality issues the car has which makes Consumer Reports think poorly of it. This was a car I could have fallen in love with; it's a shame it's an ordinary diesel.
C'mon Mercedes
, make it live up to its name. Make it electric! Now that's a smart idea. And I'd be happy to drive one.
Labels: car